Seeing What's Possible | Making It Happen
Vision Builders is a U.S. based organization that carefully selects partners from around the world who are native to and living in their regions, and who have already started small humanitarian projects in the fields of health care, children's education and job training for women. We work with these proven leaders to plan and fund next step expansion of their efforts to better meet the overwhelming needs of extremely impoverished communities.

(Vision Builders)
Projects We Support:
"Kutumb" is the Hindi word for family. Kutumb was started in Varanasi in 2002 to attend to slum children and children abandoned at the railway station by giving them a sense of family and belonging. The Kutumb Shelter is home to 40 children rescued from the streets and railways platforms. Another 90 children receive primary education at "Kutumb Baalwadi" and 48 more attend public schools. Kutumb also provides vocational training and adult literacy to around 70 women in the community.

(Kutumb)
"NIPUN" – a Hindi word, meaning 'one who is skilled' – is a Non Government Organization founded primarily to enhance quality of life of the poor and the vulnerable, by a group of socially conscious development workers in 2005. Children and youth are its target group, with physically and mentally challenged children and adults forming a priority category. Pre, Non-formal and Remedial Schools, Community Health Programmes, HIV/Aids and Promotion of Self-Help Groups forms its major strategies.
NIPUN has made a modest beginning with community organization, enhancing skills of children and youth and educational activities in the slum areas in West, South West, North West and South Delhi. The approach of the organisation is to organise and sensitize members of the community about their developmental needs and initiate them to address those needs, develop their capacities, utilize local wisdom, encourage community participation, apportion and delegate responsibilities, develop linkages, maintain follow up and feedback, with emphasis on treating family as the basic unit for development. 

 (Nipun)
---
Happening NOW
'Kutumb' Means Family, Every Family Needs a Home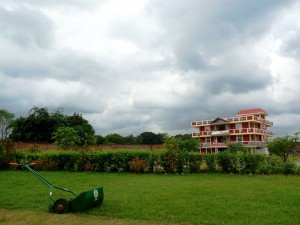 Thanks to Dr. Ashish and his families tireless efforts, and the support of generous donors like you, the Kutumb project is expanding to include a new home for the orphaned children as well as a space where other Kutumb projects such as medical outreach and women's empowerment classes can take place. Just 15 kilometers from the original Kutumb shelter building is a 2.5 acre plot of grassy, tree-lined land where the new construction has been completed.  This new location will secure the future success of Kutumb. Easily accessible by a paved road, the land is located in a peaceful, historic village called Rameshwaram. "There are already some trees of mango and Guava!", Dr. Ashish enthusiastically says of the new property. Keeping the children happy and healthy in the original small concrete building, with no ventilation and only dim lighting, has been challenging. The original Kutumb shelter space offers no truly safe area where children can play or be outdoors.  Most of the children who come to Kutumb have never seen an open expanse of land that is not covered with burning piles of trash. The children are very excited about having access to a more enriching, natural environment. Now that the new Kutumb location is completed, there is also more space available in the original Kutumb Shelter building to support the growing community needs. Through proven dedication and effort by Dr. Ashish , his wife Puja, and their growing corp of volunteers and employees (mostly 'graduates' of Kutumb's own programs), the Kutumb Project's mission is being actualized. Funding to help sustain the Kutumb programs and services are always needed and welcomed.  Help us raise these funds! A gift of any size helps.
Fundraiser Event in NJ on Nov 21st, 2015  
We look forward to see our supporters at our fundraiser event:   by Kids for Kids, a cultural extravaganza  
We had a successful 2014 Fundraising Campaign!  
Your generous donations during 2014 raised:  $20,000.00 for Kutumb, and every cent went  directly to the Kutumb programs which directly impact the lives of children! Highlight of our 2014 fundraising was the Benefit Concert  held on Nov 22nd in Jersey City, NJ.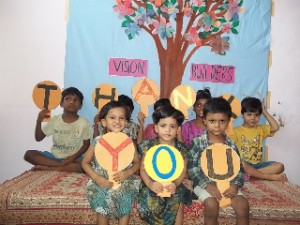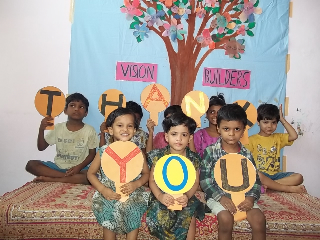 To stay up to date, visit Vision Builders Facebook page, and "Like" us so you can follow the exciting progress in your news feed!
Vision Builders serves as a conduit, getting your help to children in desperate need. This is made possible through the tireless work of volunteers, the financial contributions of our supporters, and partnership with those who also hold a vision of a better life for children in the developing world.     read more ›
---
You can make your contribution while you shop online,  we are registered as a charitable organization with Amazon and iGive!