Seeing What's Possible | Making It Happen
Vision Builders is a U.S. based organization that carefully selects partners from around the world who are native to and living in their regions, and who have already started small humanitarian projects in the fields of health care, children's education and job training for women. We work with these proven leaders to plan and fund next step expansion of their efforts to better meet the overwhelming needs of extremely impoverished communities.
---
Happening NOW
'Kutumb' Means Family, Every Family Needs a Home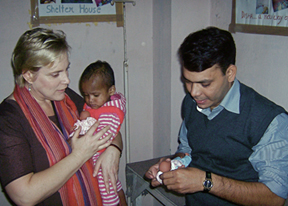 Thanks to Dr. Ashish and his families tireless efforts, and the support of generous donors like you, the Kutumb project will be expanding to include a home for the orphaned children as well as a space where other Kutumb projects such as medical outreach and women's empowerment classes can take place.
Just 15 kilometers from the current Kutumb shelter building is a 2.5 acre plot of grassy, tree-lined land where construction is currently taking place that will secure the future success of Kutumb. Easily accessible by a paved road, the land is located in a peaceful, historic village called Rameshwaram. "There are already some trees of mango and Guava!", Dr. Ashish enthusiastically says of the new property.
Keeping the children happy and healthy in the small concrete building with no ventilation and only dim lighting, that is the current base of operations, has been challenging. The space offers no safe area where children can play or be outdoors.  Most of the children who come to Kutumb have never seen an open expanse of land that is not covered with burning piles of trash. The children are very excited about having access to a more enriching, natural environment.
When the orphans move to the new location, there will also be more space available in the current building to support the growing community needs. Through proven dedication and effort by Dr. Ashish , his wife Puja, and their growing corp of volunteers and employees (mostly 'graduates' of Kutumb's own programs), the Kutumb Project's mission is being actualized.
Vision Builders aims to raise $250,000 by 2014, so construction of the new facility can begin in phases as funding becomes available.  Help us raise these funds!
A gift of any size helps.
News Flash!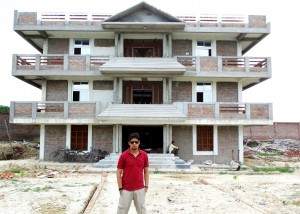 It's been years in the making, and construction of the main building at the new Kutumb Village location is completed!  Funding is still needed so the children can move into the new orphanage in Kutumb Village, and to secure the necessary operational resources for the first year at the new location.  Please visit our Beat the Ball Drop fundraising page for more information.  Your contributions make a direct impact on the lives of children.
Exciting Update!
We have received a pledge for 1:1 matching donation for our Beat the Ball Drop Fundraiser.
Thank you for you great generosity and support Smita Abbi and Arun Verma of Greenbrook, NJ
You can also visit Vision Builders Facebook page, and "Like" us, so you can follow the exciting progress in your news feed!
Read more about the Kutumb Project below.
Success Stories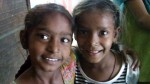 Sengcham Drukmo Home for Girls  ›
Vision Builders serves as a conduit, getting your help to children in desperate need. This is made possible through the tireless work of volunteers, the financial contributions of our supporters, and partnership with those who also hold a vision of a better life for children in the developing world.     read more ›